Calmness and home warmness
Snežienka Cottage
Regetovka 17, 086 33 Zborov
3 bedrooms, max. 8 people
BOOKING
Stylish cottage in the picturesque valley of the village Regetovka.
Checkin & Checkout
Checkin is after 14:00,
Checkout is no later than 10:00.
Possibility of later check-out by agreement
General terms and conditions
Our company is governed by the general terms and conditions published under the link below.
Cancellation policy
The customer can cancel the reservation up to 48 hours before arrival. This does not apply to Christmas, New Year's Eve and specifically selected days. Contact us for more info.
What does it look like here?
PHOTOGALLERY
Get to know
Our rooms and equipment
The cottage has 3 bedrooms, 1 living room with sofa and TV, fully equipped kitchen and 1 bathroom with toilet. In the exterior there is a gazebo.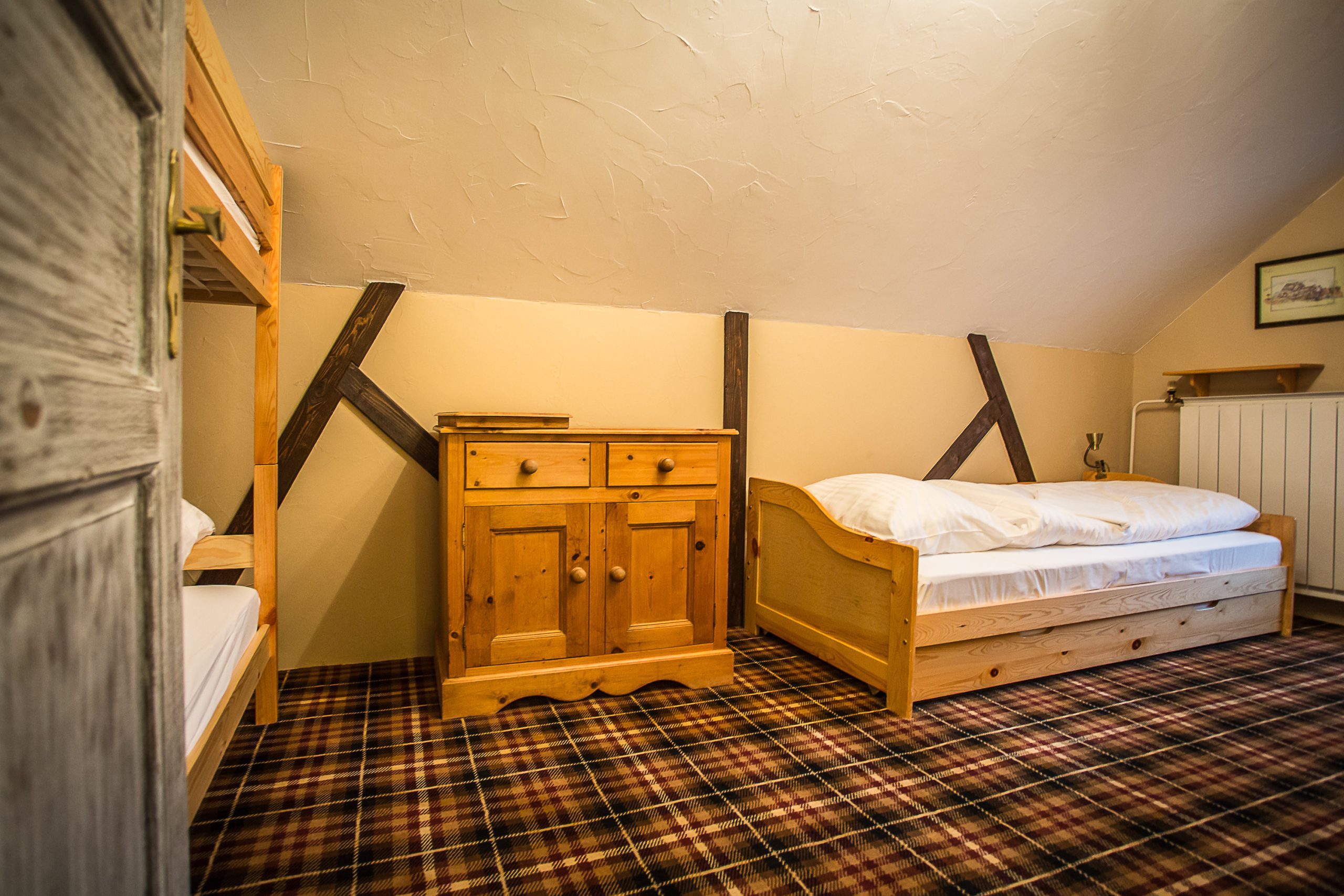 Rooms
Bedroom No.1 – large double bed, balcony
Bedroom No.2 – 2 single beds next to each other
Bedroom No.3 – 2 beds on a bunk bed, 2 beds on a pull-out bed
Price per night from
128 €
FULLY EQUIPPED KITCHEN
The kitchen has all the important appliances for preparing food such as electric stove, microwave, kettle, pots, cutlery, ladles and other small inventory.
Do you want to ask something?
Contact us
Rest
Surroundings and leisure
There are many activities in the village and the surrounding area to fill your free time. There is a restaurant, in winter you can go skiing, in summer there are many hiking opportunities. Bardejov also offers various opportunities to enjoy your free time and experience moments with your family that you will remember for a long time.
Zborov Castle
The ruins of Zborov Castle, only 10 minutes away by car, provide beautiful nature, culture and views of the village of Zborov. More info on the web https://hradzborov.sk/
Bardejov
The town of Bardejov is a historically and culturally rich town, considered one of the most beautiful Slovak towns. The historic center of Bardejov, together with a complex of buildings forming a Jewish suburb from the beginning of the 18th century, was inscribed on the list in 2000 – the UNESCO World Cultural and Natural Heritage. More info on the web www.bardejov.sk
Moja Makovica
There is another ski resort 14 km from the cottage. In summer there is the opportunity to swim on the water reservoir Makovica. More info on the web www.makovica.sk
Tourism
In the village near Regetovské peat bog, the official hiking trail marked in yellow begins. It also leads, for example, to the Polish village of Regietów.  Tourist map here.
Visit the picturesque village
We have free dates!
Come relax with us. Summer hiking, winter skiing, or just relaxing with friends and family.